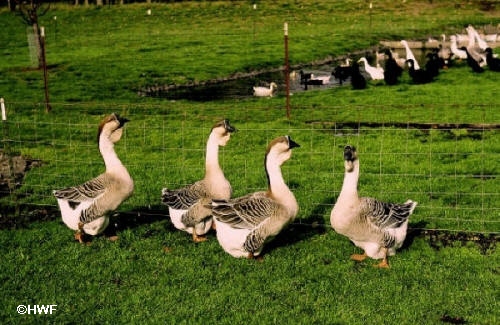 Mating of Brown Africans
"Papa Ben" (on left) and "Mama Ben" (second from right) photographed in 1994 at 11 years of age. They were the foundation pair for our "Ben" Line of Africans.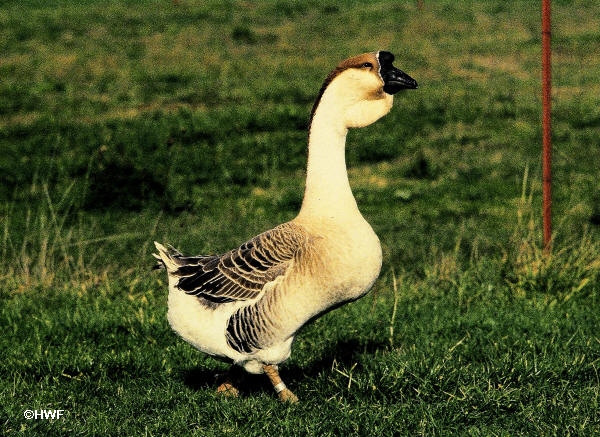 "Gentle Ben" -- A Memorable Brown African Gander (5 years old in this photograph)
Best Bird in Show at 1991 American Poultry Association National Show (This photograph was taken a few days after his win.) Three of Gentle Ben's yearling sons took 2nd, 3rd & 4th Old Ganders at the 1991 National, when Gentle Ben took 1st. At the APA National 1994, his son, "Junior Ben", won Grand Champion Goose and Reserve Champion Waterfowl.
"Gentle Ben" As a Yearling.
""Big Ben"--A Double Grandson of "Gentle Ben"
Pictured here at 10 years of age (in the fall when his plumage is at its darkest), this massive gander still has a wonderfully tight body without any sign of a keel.
Old Pair of Brown Africans
"Big Ben" and his 8-year-old mate, "Satin Princess", were photographed in late spring, near the end of the breeding season when their plumage was faded and worn. This outstanding female (on right and in full egg production) has retained her excellent conformation through the years. They are the parents of "Atlas". pictured below.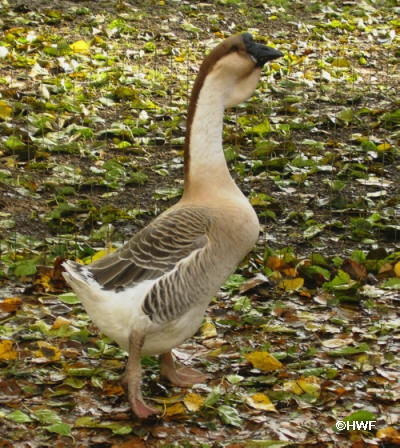 "Atlas"--Son of "Big Ben" and "Satin Princess", shown here at 4 months.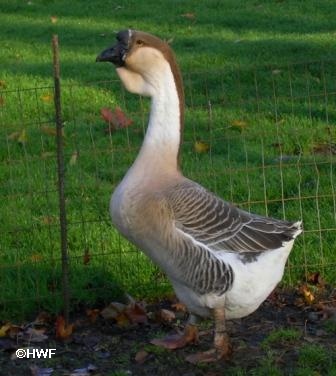 "Atlas" at 18 Months of Age
Comparing this photo with his 4-month-old photo above shows the changes that take place as an African goes from a young bird to a yearling.
Yearling Buff African Geese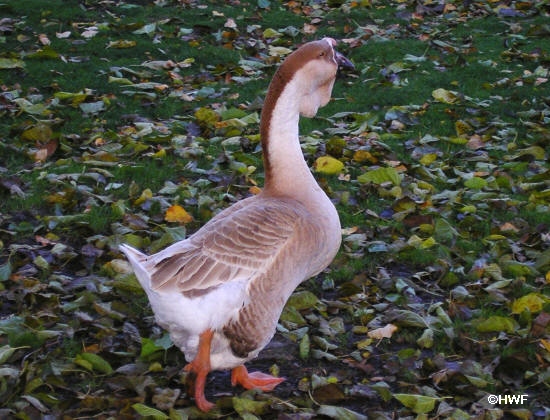 15-Year-Old Buff African Goose
12-Year-Old Buff African Gander
As Buff Africans age, it is common for their knob and bill to lose the dark brown pigment of their youth.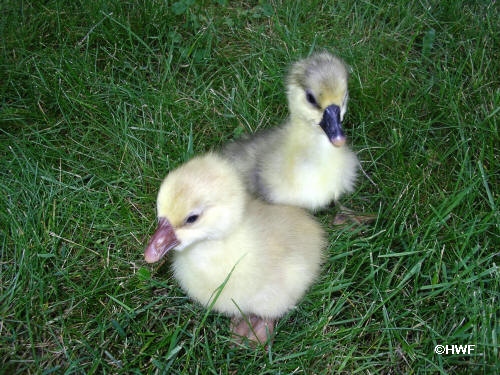 Freshly Hatched Buff (left) and Brown (right) African Goslings (note the distinctive bill colors)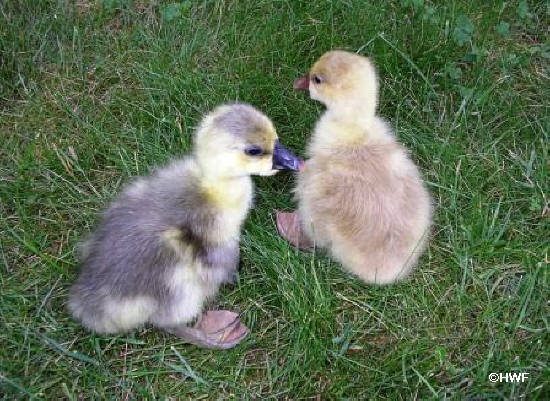 Freshly Hatched Brown (left) and Buff (right) African Goslings (note distinctive down colors)
Copyright 2007 Holderread Waterfowl Farm & Preservation Center