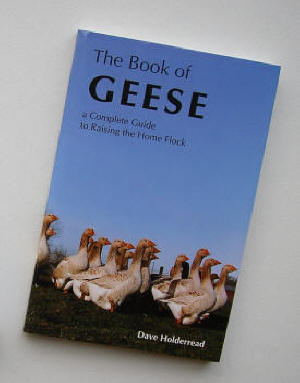 The Book of Geese a complete guide to raising the home flock
--by Dave Holderread

"The Book of Geese, is a valuable reference. Although basic enough for the hobbyist, it is comprehensive enough for commercial producers and scientists as well.&quot
--Al Hollister, Dept. of Poultry Science,
Oregon State University
"I found The Book of Geese absolutely fantastic. Congratulations! It became very helpful the day it arrived. Thanks again."
--Alvaro Molina, Agroindustrias Anser
Rancagua, Chile
Twelve informative chapters covering the usefulness of geese, their limitations, external characteristics, behavior, the breeds, getting started, incubation, rearing goslings, managing adult geese, diagnosing diseases, sexing and butchering.

Eleven appendices...formulating goose rations, symptoms of vitamin & mineral deficiencies, preventing losses to predators, recipes, using weeder geese, exhibiting geese, a goose breeder & hatchery guide, etc.

Twenty-one feed rations formulated specifically for geese

224 pages. 118 photographs and illustrations. Quality paperback, full color cover, $18.95; $4.00 postage and handling (book rate) or $7.50 for Priority Mail (for 1 or 2 books). Email or call for current USPS rates for any international orders.
Wing Disorders in Waterfowl
--Causes, Remedies and Prevention Wing deformities are the most common disfiguring problem in waterfowl. For 20 years, Dave Holderread has studied the correlation between genetics, nutrition, environment and wing problems in all recognized breeds of ducks and geese. Reporting the findings of his research, this bulletin gives detailed guidelines on preventions and cures that every waterfowl raiser will find useful. Postpaid price is $7.00.

Managing Ducks For Top Egg Production

In a clear, concise manner, this bulletin outlines tried and tested methods for getting top egg production from laying ducks. Covers selecting laying stock, feeding, watering, housing, lighting, culling non-layers, molting, cleaning and storing eggs, raising your own duck feed and much more. Postpaid price is $7.00.

Breed Bulletins

For the rare varieties, these publications represent some of the most comprehensive information available. Each bulletin covers breed history, production records, color of day-olds, proper conformation and color of adults, common faults, selecting breeding stock and suggestions for a successful breeding program. Postpaid prices are $2.50 each, 5 for $10.00, 10 for $16.00, 15 for $20.00 or all 25 currently available for $30.00. Email or call for current USPS rates for any international orders.
#1 Blue Cayuga Ducks
#2 Ancona Ducks
#3 Welsh Harlequin Ducks
#4 Silver Appleyard Ducks
#5 Golden Mallard Ducks
#6 French Rouen Ducks
#7 Golden Cascade Ducks
#8 White Campbell Ducks
#9 Dark Campbell Ducks
#10 Pied Campbell Ducks
#11 Khaki Campbell Ducks
#12 Black Cayuga Ducks
#13 Magpie Ducks
#14 Saxony Ducks
#15 Indian Runner Ducks
#16 Rare Runner Ducks
#17 Gray Mallard Ducks
#18 Aztec Bantam Ducks
#19 Australian Spotted Ducks
#20 Blue Pearl & Porcelain Mallard Ducks
#21 Silkie Ducks
#23 African Geese
#24 American Buff Geese
#25 Pilgrim Geese
#26 Chinese Geese