This lovely, pastel German breed dates back to 1934. In the quarter century that we have been breeding and studying the Saxony here at The Preservation Center, we have found that they are the best multi-purpose large breed duck. They have exquisite plumage, are fast growers, produce gourmet quality meat, lay large quantities of top quality, white shelled eggs. (With careful selection of our breeding stock over the years, annual egg yield per female in our flocks is currently 200-260.) Due to their plumage color, birds dressed for meat do not have dark pin feathers.
Two-year-old Saxony Ducks
These elite exhibition females have the color and markings, confirmation and size (9 pounds each) desired in this beautiful and useful breed.
Mature Saxony Duck
This Saxony duck was photographed in the early fall when her plumage was at its richest hues. She has ideal head and neck markings, and the desired orange bill and legs. Many Saxony females will develop browner bills as the laying season progresses.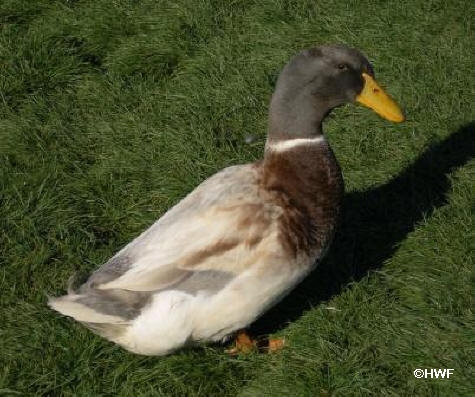 5-Month-Old Saxony Drake
This massive, young drake weighs a bit over 10 pounds and has the conformation and colors described in the American Poultry Association Standard for Saxony drakes. The silver-gray head and neck on this drake is actually uniformly colored, but due to the lighting, he appears to have dark patches in this photo.
Copyright 2008 Holderread Waterfowl Farm & Preservation Center